Factory Direct Complete Ready To Install Systems
Made in the USA

All of our Smart Film® Products are manufactured in the United States of America and registered with the United States Patent and Trademark Office. We ship Worldwide!


Industry Leading 5 Year Warranty
We lead the industry with our unrivalled 5-year warranty. Extended warranties are available for longer than 5 years.


Engineering time is provided with all orders. We can manufacture and ship out within 1 business day if need be.

Smart Film® electric smart glass switchable film applies to any new or existing smooth glass surface. Easily control our switchable film™ from clear to frosted (opaque) with the click of a button or command from your smartphone. Third party control avabilble. Smart Film® switchable glass privacy film™ is private frosted and opaque when powered off and transparent clear when powered on. We also manufacture the World's First reverse operating Smart Film that powers off clear and powers on frosted private also know as FlipTint™
Smart Film® is available in 2 installation types: Self Adhesive and Non-Adhesive. Our trademarked, proprietary, and industry-leading Smart Cling®; Self Adhesive products are easily installed utilizing a peel-n-stick Smart Cling® self-adhesive backing. Smart Film® Non-Adhesive is a mechanical install technique using a 3M double-sided clear tape (included with your purchase).
We offer a complete hard wired system, which is custom manufactured to your project's specifications, as well as a Plug and Play System available in 7 colors. We include all orders with engineering time to assist with methodizing and implementing all aspects of your project scope. Trusted by industry leaders worldwide, we have the most comprehensive online database of completed projects and product information available.
Both types offer durable Privacy on Demand™, extreme clarity, and maximum performance when powered on and off, and both kinds of Film are dimmable! Smart Film® is 100% compatible with smart home automation systems. This unique technology blocks 99% of UV rays and solar heat!
Dim it, Project on it, stick it, hang it, use it as a whiteboard or high-tech window treatment, and more! Smart Film® switchable electric films are designed to variably adjust the light between a transparent and an opaque state with AC power. Our technology allows for instant privacy of windows on demand with the flick of a switch or the turn of a dimmer. It is the next generation in switchable privacy glass as well as electronic dimmable window treatments.
Smart Film® powered by Smart Tint® is proud to announce that it is officially being used as the world's first Smart Security Film™ also known as Riot Tint™

Watch Our Smart Film® Commercial
Use the arrows to scroll through and view our different applications!
Smart Cling® self-adhesive out gases on its own allowing air bubbles to escape.
Doesn't Trap Heat/Moisture
Smart Cling ® self adhesive switchable privacy Smart film does not trap in heat or moisture like the traditional self-adhesives and glue down applications. This will protect your glass from solar fracturing or cracking.
Smart Cling® Self-Adhesive
Finish your install in a flash using: Smart Cling® Self-Adhesive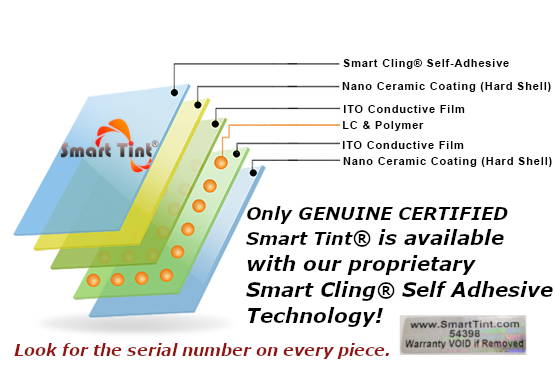 Smart Cling® self-adhesive is hypoallergenic, unlike dusty traditional blinds
Smart Cling® Smart Film® is easy to install with a peel away backing providing a permanent application!
How Much Does Smart Film Cost?
The price of our Genuine Switchable Privacy Glass Electric Smart Film® depends on your project size and measurments. Championed with our five-year industry-leading warranty, Smart Film® powered by Smart Tint® is the only Switchable Electric Film® in the industry that offers a Smart Cling® Self Adhesive Technology for peel and stick installation on any smooth glass surface. There are many options available when purchasing factory direct from us. We can provide you a wholesale Smart Film® quote factoring in your project details, sizes and wire locations or you can buy it now by using our online portal. Try out one of our sample kits today to see the difference!
Can you Project on Smart Film® products?
Does Smart Film® Block UV?
Yes, Smart Film blocks over 98% of the harmful UV rays in both its energized and unenergized state.
Is Smart Film® less expensive than smart glass?
Yes, it is a fraction of the cost and no construction required.
Can Smart Film® be installed on the top half of the glass only? 

Can I install this product myself? 
Yes, we offer a complete do it your self kit with practice pieces.
DO NOT HANDLE THE MATERIAL BY THE WIRING. IF THE CONNECTION IS BROKEN, THE MATERIAL WILL NOT FUNCTION.THERE ARE NO WARRANTIES ON ELECTRICAL CONNECTIONS. CONTACT AN ELECTRICIAN FOR ALL WIRING CONCERNS.
Please be sure to accommodate where the wiring is attached to the film to prevent any post-installation damage.
The electrical wires that attach to the film are a delicate connection and must be protected. All orders are custom, so we recommend a minimum 1/4" tolerance for the wiring connection point.
How to control Smart Film® ?
Your choice of how to operate our film. Either dim it , standard on / off with remote or internet application accessible by any internet browser.
How can I purchase or get a quote?