---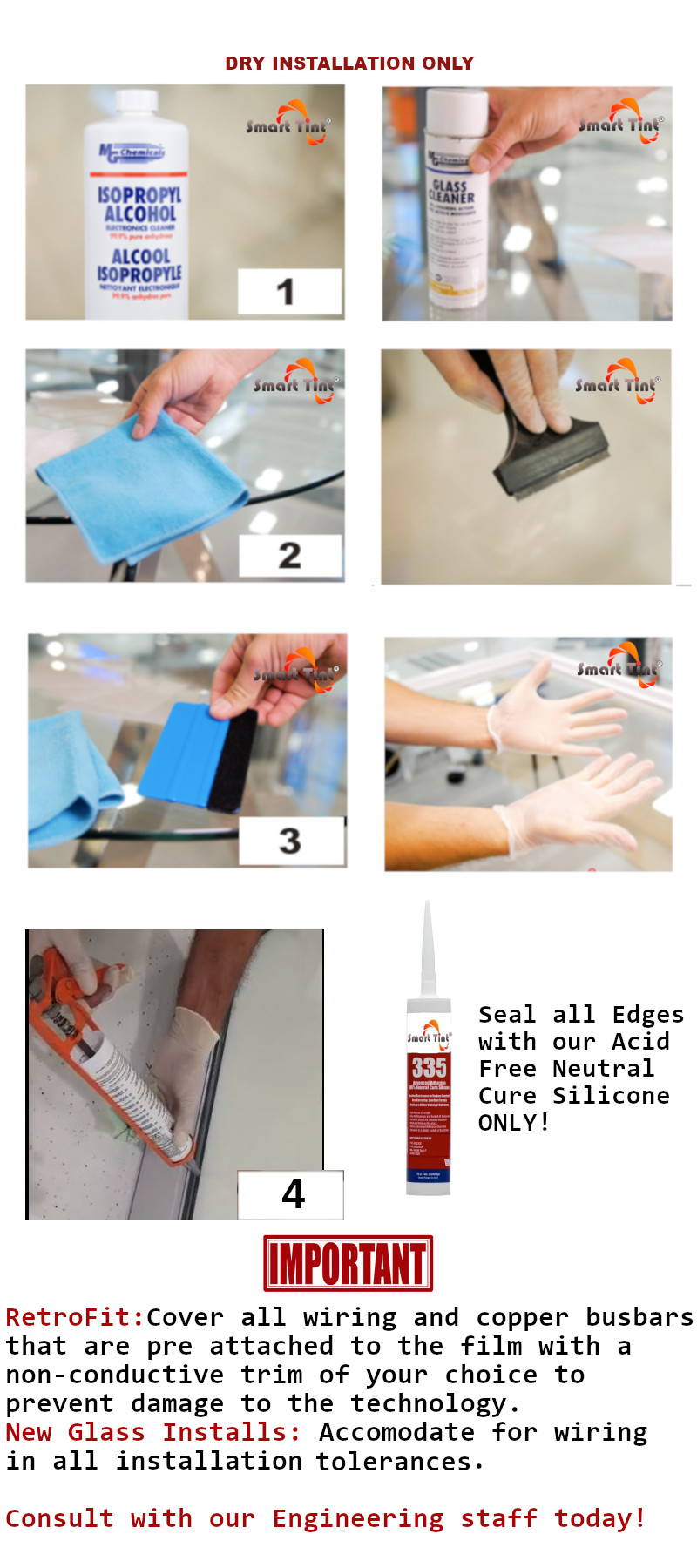 Measurement Recommendations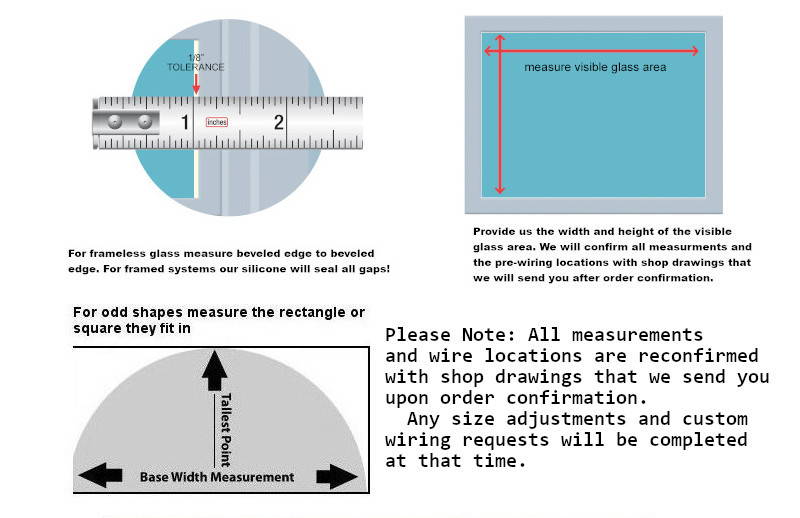 Window scraper/razor
Neutral Cure glass ACID FREE silicone (provided by Smart Tint)
Nitrile gloves
Microfiber towels Glass cleaner (98% or greater Isopropyl Alcohol) Squeegee
Wire stripper
Razor Blade for glass cleaning only
18 Gauge Electrical wires
Soldering iron
Lead free solder Trim of your choice (non-conductive)
DO NOT use water or any other liquids for installation other than for cleaning beforehand. Installation surface must be clean and dry.
We recommend the outer dimensions of the film be 1/8" shorter than the glass around all edges.
The electrical contact strip and leads should NEVER come into contact with any metal frame, trim, or surrounding objects. The finished trim should be nonconductive. Always ensure the completed project is trimmed with nonconductive materials and that all exposed wires, leads, etc. are covered sufficiently to eliminate the possibility of electrical shock or fire. We are not responsible for improper installations and highly recommend professional installation.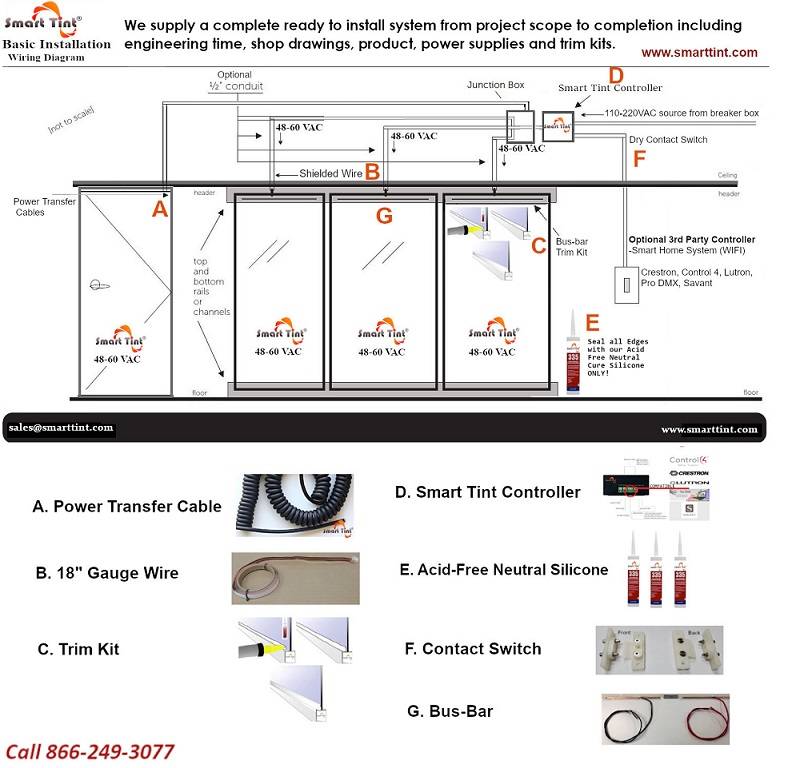 POWER TRANSFORMERS: A power transformer or power control unit is required to power Smart Tint® Smart Film®. This lowers the standard household or commercial voltage from 110-120VAC(USA/Canada) , 220-240VAC(Europe,Asia, Australia etc.) to 24-65VAC . Smart Tint manufactures the largest sizes and most efficient Smart Film in the world with 10 square feet only using 3-5 watts of power and manufacturing sizes of 1.8m(71") x No Height Restrictions. The rule of thumb is one 100watt transformer for every 120 square feet of material. All of our material is dimmable and 3rd party smart home compatible.
Zones : It is important to decide on how many zones of independent control, turning Smart Tint® Smart Film® on and off / Dimming or both, that you want to have. This could be all the windows on one wall, separate windows on one wall, or several windows on different walls. Each zone to be controlled needs a minimum of one transformer to power the Smart Tint® Film in that area.
Care and Maintenance
Always power the film off when cleaning and do not power on until 100% dry. Be careful not to disturb any electrical connections.
The best cleaner is a simple solution of water and a small amount of streak free detergent soap . Clean the window and then squeegee dry with overlapping strokes. You may also clean the film surface with any normal strength glass cleaner or isopropyl alcohol and a lint free yellow micro fiber cloth. Our poly vinyl surface is durable however if you could avoid harsh paper towels it would prevent light scratches and hazing over time. Products with ammonia will not damage the film if used in reasonable quantities. Do not use any abrasive cleaners, industrial strength glass cleaners and/or any other window cleaning tools that may scratch the window film. Remember, the surface of the film is scratch resistant not scratch proof.
A Clean Working Environment

The working environment needs to be as clean and dust-free as possible prior to beginning installation. If there is dust in the area or along the surfaces near the glass it can easily contaminate the Smart Tint as it is being applied. For those who are applying the Smart Film during a renovation or construction project this is particularly important, as there is often debris in the air.

If there is dust or debris in the air or you just want to take an extra precaution you can spray water mist into the air an hour or so prior to beginning the installation. This will help remove particulate matter from the air.

Smart Tint® has a proprietary Smart Cling® Self Adhesive backing technology that is the only Smart Film® in the industry to out gas on its own with a peel and stick installation method. With this said our smart film® is the only switchable film in the industry that will not cause solar fracturing.and out gas small installation related air bubbles on its own over time.
Handle Smart Tint Carefully

Never bend, fold or curve Smart Film®. Always keep the film flat and straight.
Do not remove the protective liner (smart cling self adhesive side) until you are ready to install the Smart Film. Doing so gives the film more exposure to any dust and debris in the air that may get stuck to it. It also makes the switchable film difficult to handle and install.
The protective liner on the adhesive side should only be peeled away after the Smart Film® has been applied to the glass and all air bubbles have been pressed away with a squeegee.
Always be careful with the edges of the film to avoid delamination.
When installing large pieces of Smart Privacy Film it is important to have two or more people performing the install.
Wipe down both sides of the protective liner of the film with isopropyl alcohol only to remove and dust or debris from the shipping container.
Carefully unpack the material and lay flat on a clean surface prior to installation allowing the material to relax and acclimate to the room temperature of the installation environment.
---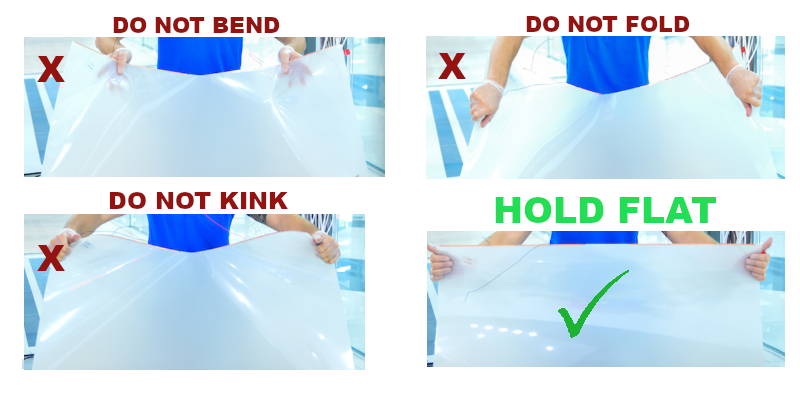 Step 1 : Lay Smart Tint® Smart Film® flat and wipe down both sides of the release liner with isopropyl alcohol to remove any debris, dirt and oil.
Step 2: Scrape and clean glass. Make sure the glass is 100% free of debris, dirt and oil.
Step 3: Dry glass.
Step 4: Check alignment of Smart Tint® Smart Film® by installing the first 4" only and having film lay on glass flat.
Step 5: Handling and installing Smart Tint® Smart Film® is recommended to have 2 technicians.
Step 6: Install Smart Tint® Smart Film® with provided squeegee.
Step 7: Connect electrical connections.
Smart Tint® film powered off
Smart Tint® film powered on
Smart Tint Trim Kit
To properly install Smart Tint switchable privacy film all exposed edges and copper wiring are to be sealed to prevent damage and protect from moisture and cleaning. Use the provided specialized procedures to utilize the existing window gasket as backer material. This will secure the glass and provide a fill stop when applying the silicone adhesive. Using the Existing Window Gasket as a "Backer" for the Silicone application.
Be aware some gaskets contain petroleum based products that may leach and be absorbed by the silicone, this may cause adhesive failure and damage the technology. It is recommended to use our Neutral Cure Acid Free Silicone only to seal the edges and any exposed electrical connections. You can also remove the gasket and install a "backer rod" or similar approved material.
How to cut and trim in the field
Cut and trim the material at your own risk. This technology is delicate and we always recommend you provide us the correct measurements so we can professionally cut to size at our facility eliminating any risk of material fault.
Measure 3x and we will cut once.

DO NOT use a razor knife
Ideally provide us the correct measurement's and we will send a laser cut perfect ready to install piece. However if you have to trim a pair of stainless steel or titanium scissors will do the trick. Do not use a razor blade or knife it could cause delamination or leave a burr on the opposite side of the material causing it not to sit flush on the glass.
PLEASE NOTE: IF YOU DECIDE TO CUT AND TRIM YOUR SELF TO APPLY AN ACID FREE ADHESIVE ON THE CUT EDGES TO ELIMINATE ANY POSSIBILITY OF SPLITTING OR DELAMINATION. ALL WARRANTIES ARE VOID IF MATERIAL IS CUT OR TRIMMED BY ANYONE OTHER THAN AN AUTHORIZED PROVIDER/INSTALLER OR FACTORY DIRECT.